To:

Senator Jessica Ramos and Councilmember Francisco Moya
NO Casino! NO Parkland Alienation!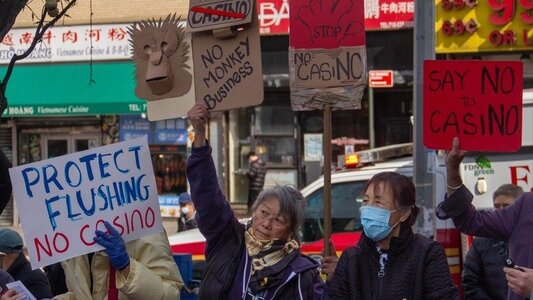 To State Senator Jessica Ramos and Council Member Francisco Moya:
Steve Cohen's firm New Green Willets seeks one of the State's 3 casino licenses to build a casino next to Citi Field that would privatize over 50 acres of NYC-owned public parkland that would devastate the surrounding local communities. Our public land should be for the benefit of all of us, not for a casino that will destroy families and our communities. Senator Ramos, you have the power to prevent this casino project by not introducing any parkland alienation legislation. Council Member Moya, you have the power to prevent the casino project by not allowing a zoning change or an alienation home rule request. As the State Senate and City representatives for Citi Field, we are calling on you to:
1. NOT introduce parkland alienation to take away public land;
2. Publicly OPPOSE a casino in Flushing Meadows Corona Park;
3. SUPPORT the Phoenix Meadows Plan to restore a park for all to enjoy
Why is this important?
We launched the petition to stop Senator Ramos from introducing parkland alienation legislation in the 2023 session. And we were successful! But this fight is still not over and it includes more than only NY State legislators. Over the next year, Steve Cohen and his backers will try again to pass an alienation proposal at the state level, but they are also preparing to force the casino through a rushed city zoning process. We are adding Council Member Francisco Moya as an addressee to the petition, to demand local legislators to stop a project that impacts all Queens communities!
We can't protect our communities without you! Join us 🙋 Contact FED UP: [email protected]